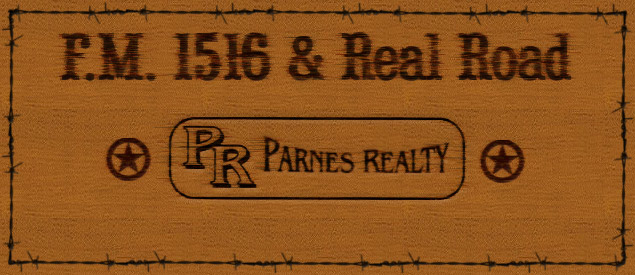 Size:

16.058 acres, although Seller will divide into approximately 3.7 acres and 12.4 acres

Approximately 16.058 acres of land, more or less, out of the John W. Hoyt Survey No. 33, Abstract 310, County Block 5102, Bexar County, Texas and being approximately 13.283 acres of land out of a 16.08 acre tract and approximately 2.775 acres bot in Volume 13347, Page 2133 of the Real Property Records of Bexar County, Texas and being more particularly described by Field Notes attacthed.

Frontage:

Approximately 326' on F.M. 1516

Approximately 980' on Real Road

Dimensions:

Flood Plane:

According to the Survey and the February 16, 1996 N.F.I.P. Map No. 480035, none of the property is located within the 100 year flood plane.

School District:

Deed Restrictions:

None

Zoning:

None; Outside city limits

Taxes:

The property is currently being taxed under an agricultural exemption.

Water:

S.A.W.S

Electricity:

C.P.S - Along both FM 1516 & Real Road

Price:

3.7 acres - $92,500; or $25,000/acre
12.4 acres - $223,200; or $18,000/acre
16.058 acres - $315,700; or $19,660/acre

Contact:

Gordon V. Parnes - Owner / Broker
21991 Loma View East
San Antonio, TX 78259

(210) 481-2843 O
(210) 865-4980 M
(210) 481-2845 F
Gordon@parnesrealty.com
All information furnished regarding this property is offered from sources deemed reliable, but no warrant or representation is made to the accuracy or completeness thereof and same is submitted subject to changes in price or terms, prior sales, other disposition or withdrawal without notice.
| | |
| --- | --- |
| | |
Click On The Pictures Below To View A Larger Image